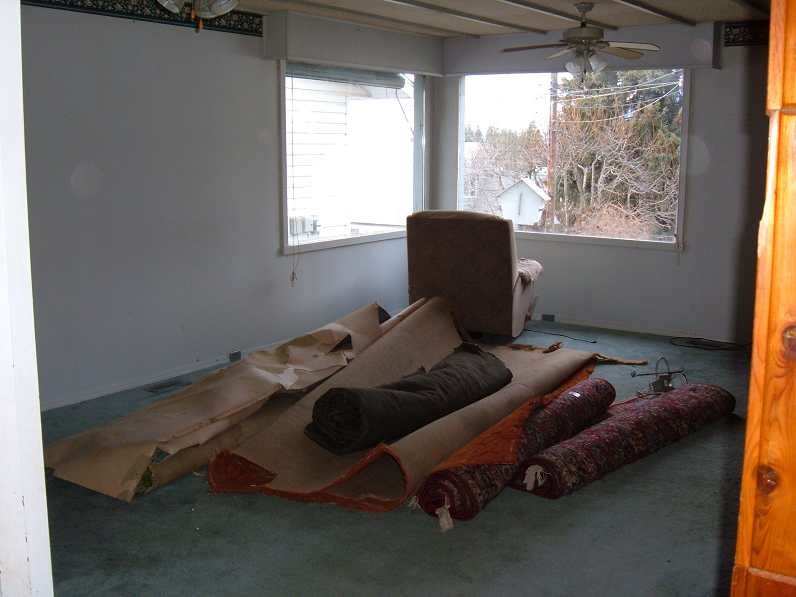 Current Topic: The Livingroom has a lot of potential. Just off the Kitchen it is spacious and has a pleasant view through it's large windows.
The Living Room Is Big But Gloomy...
Alright... Except for the light from the rather large view windows this room seems short and a bit dull (gloomy). The carpet is obviously layered on top of previous generations. But... It is dry. Probably the driest room in the house. So until we were ready for final finish we kind of used it mostly as a material storage and shop area.
The ceiling on the other hand is a complete disaster. Aside from being substandard thickness is was failing and poorly reinforced with ribbing perpendicular to the roof rafters preventing it from collapsing. Oh yeah! It was also surfaced with that cottage-cheese insulating material which we hate.
The sad thing is that we are really not going to be able to do anything to replace it within our current schedule. Best we will be ale to do is paint it so it doesn't look so bad.
Same thing applies to the floors. When we are ready. We will rip up the layers of carpet. Yes 'layers' including padding. The carpets are part of the reason the room has lost it's height.
Anyway... Just before we pull out from the renovation we will paint, remove the carpets and install a cheap but sanitary floor, not carpet, and just have to consider it disposable between tenants.
---